The
History

and

Legacy

of Baptist Grove Church
On July 24th, 1875
Henry Turner, Claybourne Fletcher, Sidney Mitchell and Jim Chavis purchased four acres of land on Leesville Road from J.J. Lynn. The date probated by a judge was July 29, 1875 and filed on September 16, 1875. The property was located nine miles northwest of Raleigh, North Carolina near Leesville Township in Wake County. One day, under a bush arbor on the land, these first officers discussed establishing a church. A church service was held under the bush arbor from its beginning until 1878.
In 1878, a beautiful white one-room log structure was built and named Baptist Grove Baptist Church. The church was 10 feet by 20 feet, and the back faced Leesville Road. The Reverends Larie Green and Daniel Tucker were selected by the congregation to co-pastor Baptist Grove Baptist Church; however, the Wake Association listed the Reverend Tucker as pastor from 1878 to 1902. Baptist Grove Baptist Church was received into the Wake Baptist Association in 1885.
During the early years of the first church (circa 1912) the Sunday School was started, with Dempsey Turner serving as superintendent. The Missionary Circle was organized with Susie Morgan as president. For many years church services were held once a month on the third Sunday. Baptism was conducted in a brook located behind the church.
In 1919, during the pastorship of the Reverend Robert Jones, the baptismal site was moved to an open spring across the road. Membership outgrew the church and another 2.5 acres of land was purchased from J.J. Lynn on January 20, 1926. The Church was remodeled three times. The baptismal site changed from Crabtree to Lake Lynn. Edward Chavis, Jr. and Willie Earl Wilson were the last candidates baptized in the outdoor lake on the corner of Leesville and Lynn Roads.
The Raleigh Union Society met once a month to plan and implement activities targeted to improve the community. Membership in the Society include the following Baptist Grove members: Francis Chavis , Rosa Nipper, Virginia Stephenson, Wyatt Hinton, Dockery Peebles,
Janie Thompson , Jim Ligon, Edward Peebles, William Thompson, Susie Morgan, Nixie Peebles, Betty Turner, Fletcher Nipper, Lucinda Smith Dempsey Turner, and Jim Nipper .
In 1931, the Wake Baptist Association valued the property at $400.00. The Reverend Vernon Williams organized the members into clubs and selected the first captains. They were Bessie Leathers, Aizer Turner, Sarah Thompson, Effie Morgan, Romelia Chavis, and Lorena Sorrell.
In 1932, Dockery Peebles, Charlie King, and Ivory Leathers were charged to buy church furniture. Ivory Leathers served as the church clerk in 1934.
During the late 1930's, Elnora Williams, daughter of Pastor Williams and wife Nettie B., served as the first pianist, playing a piano purchased for $90.00. In 1943, Pastor William Perry began serving. His daughter, Freda Perry played for the choir until Matilda Leathers Scott was trained in 1947. Brother Cleveland Ray was the Chief Officer for parking cars. Membership dues were 5 cents per month.
Revival services were held every year in the third week of August, beginning on Sunday evening through Friday night. Revival consisted of afternoon and evening services with guest ministers. Everyone who professed the Lord as his or her Savior during Revival week would join on Friday night. They would be baptized on the third Sunday in September at 10:00am at Lake Lynn.
Lola Grissom formed a quartet group with her children Charity Grissom, Lois Grissom, Louise Grissom and Edward Grissom. They were called the "Grissom Four." Another family group called the "Leathers Four" consisted of Daisy Leathers, Florence Leathers, Mary Leathers, and Matilda Leathers. Zed Walker provided musical training to his daughters Pauline Walker, Rebecca Walker, Lucille Walker, and Roberta Walker known as the "Walker Sisters."
The first church bus was purchased for the convenience of its members in 1950. Thornie Holden and Ural Grissom, Sr. were the drivers.
In 1958, under the leadership of the Reverend Perry, the wooden church was replaced by a block structure. Baptist Grove was one of the first rural churches in Wake County with modern equipped edifices including a baptizing pool, hot and cold water, indoor restrooms, an air conditioner and a furnace. Church services were held each Sunday at 12:00pm, with a seating capacity of more than 250. Deborah Scott, Phyllis Wilson, Marva Chavis, Kenneth Chavis and Burke Carrington were the first children baptized in the indoor pool.
The mortgage was burned clearing the church of debt in 1970. Between the years of 1970-1980, under Reverend Doctor Naman M. McMillan, several education rooms and the Pastor's study were built onto the rear of the church. A bronze plaque was placed above the door with the name of the family who sponsored the room. The Church celebrated its centennial in 1977.
The Reverend William Oris Merritt served as interim pastor in 1980. He introduced Bible messages, especially for youth, each Sunday before the sermon.
In the mid-1980's, when the Reverend Paul H. Johnson was the interim pastor, a land note was liquidated, the cemetery was landscaped, the parking lots and driveway were paved with marked-in parking spaces, and a new sign was erected. The Church was painted inside and outside.
The church purchased 3.6 acres of land on January 9, 1990, from Alexander and Mildred Thomas. This land is located on the southeast end of the property line known as Leesville Road.
The Reverend Nathaniel M. Clark served as Associate Minister of Baptist Grove Baptist Church. He served as chairman of the Evangelism and Christian Education Committees and as a teacher for Sunday School and Bible Study. He was honored for his love, dedication and outstanding service to God and his church during the 1991 Senior Citizens' Day Celebration.
The Reverend Paul L. Anderson served from 1992 to November 2009. Under his leadership, the church has made many improvements to the physical plan and initiated additional ministries for the spiritual growth of the church family.
The Reverend Dr. James D. Ballard became our interim pastor in April 2010 and served until December 2011.
The Reverend Bankole Akinbinu became our pastor in January 2012.
Church Expansion
Baptist Grove Church has come a long way architecturally, since 1875. It used to be a bush arbor – Worshipers got together under a grove of trees, and that is how we got our name – Baptist Grove.
The church, located at the corner of Leesville and Lynn Roads, has become a diverse congregation rich in programs for our Seniors, Youth, and Young Adults. Our outreach efforts are far reaching and is a cornerstone component of our service to our community and those in need.
To supplement the 6,615 square-foot main church building constructed in 1959, and to share its facilities with the community, a 12,000 square-foot multi-use facility was built in 2005.
Half of the church's 10 acres was cleared for the project and the new building includes four classrooms and a large central area that functions as a full-court gymnasium, worship area and fellowship hall.
The historical cemetery has headstones dating back to the 1870s.
On April 1 , 2011, BGC paid off the mortgage for our Multi-Use Facility, constructed in 2005, and the church became mortgage free. On May 29th we celebrated this blessing with a ceremonial burning of the mortgage.
Our Pastors
Reverend Larie Green (1877-1885)
Reverend Daniel Tucker (1877-1902)
Reverend Plummer Hall (1902-1905)
Reverend Will Wynch (1905-1907)
Reverend William M. Plummer (1907-1912)
Reverend Robert "Bob" Jones (1912-1924)
Reverend Vernon T. Williams (1926-1943)
Reverend William A. Perry (1943-1970)
Reverend Wesly Chavis
Reverend Dr. Naman M. McMillan (1970-1980)
Reverend William Oris Merritt (1980-1981)*
Reverend Charles Alston (1981-1984)
Reverend Paul H. Johnson (1984-1988)
Reverend Cureton Johnson (1988-1991)
Reverend Ronald L. Swain (1991-1992)*
Reverend Paul L. Anderson (1992-2009)
Reverend Dr. James D. Ballard (4/2010-12/2011)*
Reverend Bankole Akinbinu (1/2012 – Present)
*Interim Pastor
Vision
The vision of Baptist Grove Church is to reach, grow and empower committed followers of Jesus Christ, who live life to the fullest through growing in relationship with God, strengthening relationships with others, and bringing life to our world through service.
We do this by knowing God through His Word, loving God with our lives, strengthening our family, uniting in fellowship, loving with our hearts and serving with our hands.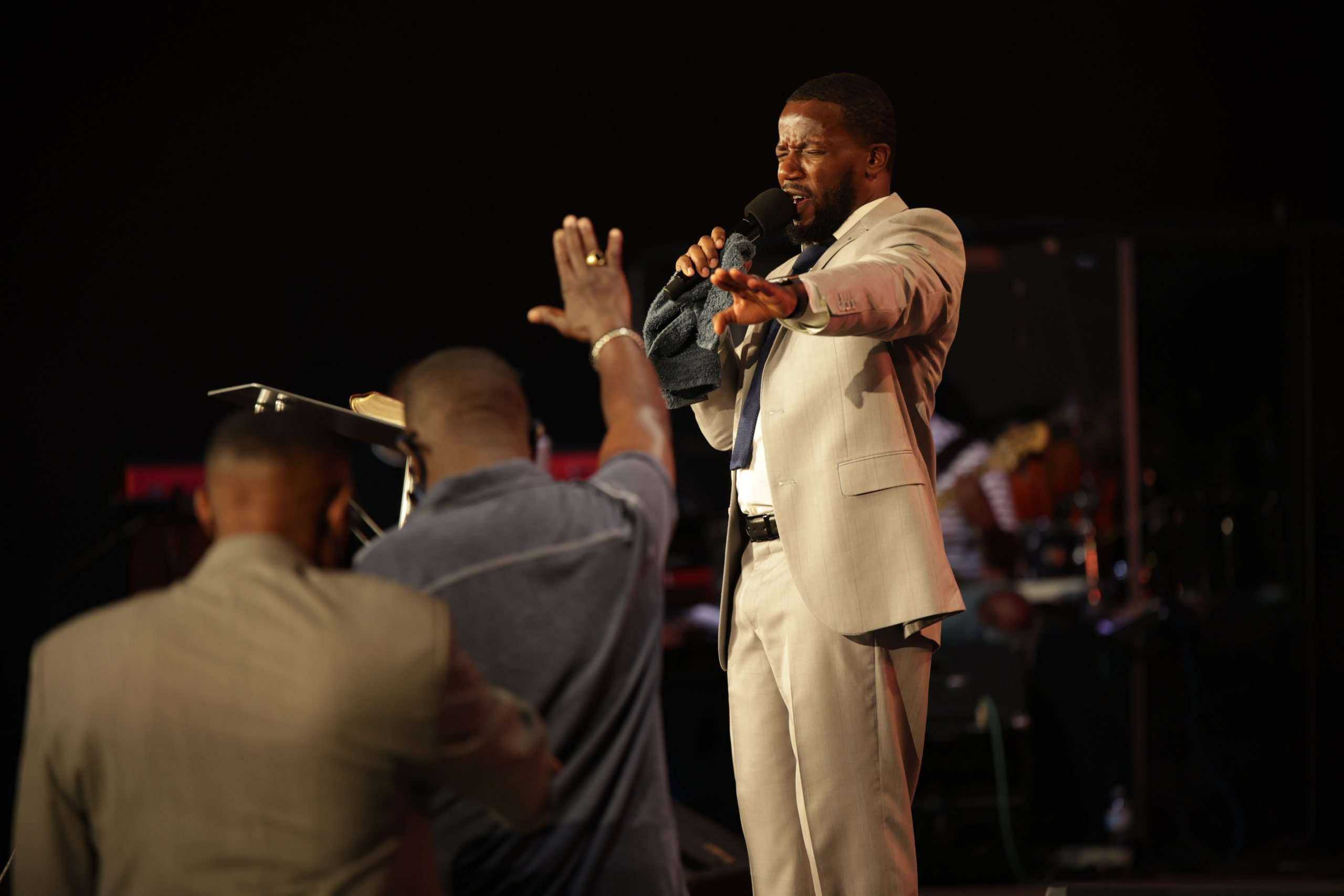 Rev. Dr. Bankole Akinbinu
Senior Pastor
Pastor Akinbinu is committed to spreading the Gospel because he believes that God's Word is able to transform and empower all who believe. He stands on the promise of Philippians 1:6: "He that hath begun a good work in you is faithful to perform it until the day of Jesus Christ."